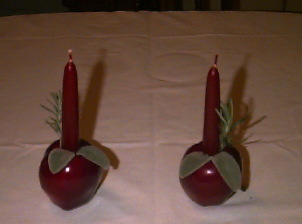 These candleholders have a light apple and rosemary scent, and look good on buffet tables, dinner tables or as accents in holiday decorations from Thanksgiving through New Year's Day.

Carefully select perfect, shiny red delicious apples. Check each apple to see that it will sit flat and straight. Try to find apples that match in size and shape, or that are nicely graduated in size.

This will take more time than you normally spend at the apple display.

Supplies needed:
red apples
candles
lamb's ear leaves
rosemary (or your choice of herbs)
an apple corer
Instructions
Polish the apples with a soft cloth.
Use an apple corer to remove the stem end of the apple to a depth of about 1/2 inch.
Place two lamb's ear leaves and a small sprig of rosemary in the apple.
Anchor the herbs with a short candle. A candle of 4-6 inches works very well.
With your fingers, gently curl the lamb's ear over the apple.

picture of the ingredients


cut a plug using the apple corer


add the lambsear


add the rosemary and the candle


first one is finished