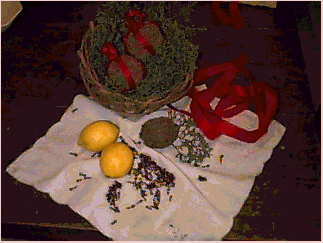 Pomanders have been used since the Middle Ages. The pomanders that we make today are rooted in Colonial and Victorian times. During those times, pomanders were not only decorative but also useful to cover up bad odors. They will serve that same useful purpose today, keeping a closet or little used room fragrant with spices and citrus. Apples were frequently used as the pomander base during the Colonial period because oranges were too expensive. Pomanders today are usually made from oranges. You could choose to make your pomanders from:
apples
oranges
lemons
limes
crab apples
kumquats
The smaller pomanders can be hung on the Christmas tree or tied onto packages

Supplies needed:
fruit for base whole cloves
powdered/ground spices such as

cloves
cinnamon
ginger
nutmeg
powdered/ground orris root
Mix the spices and orris root together.
This mixture will help your pomander dry and increase its fragrance. It also helps preserve the pomander. Use about one part orris root to four parts spice mixture.
Select firm, ripe fruit with no blemishes.
Use a skewer of some sort to poke holes in the fruit.
Push the stem of the clove into the fruit.
Place the cloves close together on the fruit.

This is a slow, but pleasant process.
Try to complete each fruit in one session.

When the orange or apple is completely covered with cloves, roll it in the spice and orris root mixture.
Leave it in the spices.
Put the fruit and spices in a cool, dark place.
Each day, until the fruit dries, roll it in the spices.
After the pomanders are dry

When the pomanders are dry, tie a bright ribbon around them and heap in bowl. You can also run a ribbon through the pomanders and use the ribbon to hang them on the Christmas tree.
If you want a stronger citrus fragrance, combine the traditional pomander described above with more contemporary designs.
A quick, pretty pomander can be made by placing cloves in a decorative pattern around an orange. This version does not cover the fruit with cloves and will not last.
The traditional pomander can be stored for years.