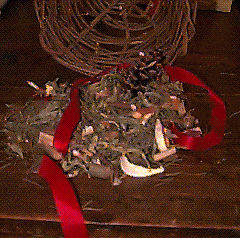 Making Winter Greens --
a very special potpourri
courtesy of Jim Long, Long Creek Herbs
The spiciness of sassafras, the clean and green scent of pine and the warm fragrance of cloves and cinnamon combine to make a perfect holiday potpourri.

Jim Long, an herbalist and owner of Long Creek Herb Farm, writes a column for "The Herb Companion", a bi-monthly magazine about herbs. The December/January 1994/1995 issue of "The Herb Companion" included his article "Holiday Greens", in which he described making holiday potpourri from woodland ingredients.

Our thanks to Mr. Long for his permission to adapt his instructions into a recipe that you can use to make the most delightful, fragrant holiday potpourri. After trying this recipe, you will want more information from Long Creek Herb Farm:
Catalog $2.00 USD, refundable with first order, available from )

Long Creek Herbs
Route 4, Box 730
Dept. INS,
Oak Grove, Arkansas 72660 USA


Telephone orders: (417)779-5450 (8:00am-5:00pm, CST)

Ask about Dream Pillow Kits--based on centuries-old herbal craft--kit contains:

bulk herbs
cotton drawstring bags
directions for dream pillows
---
Making Winter Greens
Part of the joy of this potpourri is in the making of it--the walk in the woods, clipping your own lemon verbena and working with the beautiful gifts of nature. Making this potpourri is done over several weeks, with time elapsing between additions of ingredients to allow for drying and blending of aromas.
Comments from In Season are in blue italics
Clip and dry lemon verbena stalks, stems and leaves.
Cut the lemon verbena into small pieces.
Other lemon-scented herbs, such as lemon thyme, lemon-scented geranium leaves or lemon balm could also be dried and used. Lemon verbena, of all the lemon herbs, has the most beautiful and apparent lemon fragrance.
Cut several branches from a sassafras tree.

Cut the sassafras into 1/2 inch pieces.
Place the sassafras in a non-metallic container; stir daily to help it dry.

Cut cedar branches.

Snip into small pieces and add to the sassafras.
Include the berries.

Mix the cedar and the sassafras.
Add small pieces of pine, both needles and small branches.
Again, cut the greenery into small 1/2 inch pieces.
With each addition to the potpourri, mix the greens thoroughly.
Continue to turn and stir the potpourri every day.
Add fir needles.
Collect and add 2 gallons of pine cones.
The cones will increase air circulation and help the drying process.
Add whole cloves and allspice berries.
Some cinnamon sticks will also add texture and aroma.
Now add the lemon verbena.
Also include dried citrus peels, orange or lemon.
Continue to turn and stir the mixture.
The aroma is clean, green, spicy. The scent will recall winter holidays, walks in the forest, baking holiday treats.
As you mix the potpourri, check the fragrance.
Add more pine or cedar or spices to balance the aromas to your taste.
When the potpourri is ready, use it with joy.
Share it with friends, simmer it in water, place it throughout the house.
You will not tire of the fresh, clean, spicy aroma.